Finance Chiefs upbeat despite Brexit and cyber threat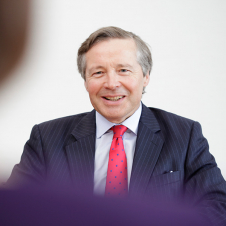 Sandy Manson
Chair and Head of Client Service
The outlook for the economy is positive, but "domestic political factors" represent the biggest barrier to growth, according to a new survey of more than 100 Finance Directors and CFOs, commissioned by The CA magazine (the magazine for ICAS chartered accountants) in partnership with Johnston Carmichael.
The survey also shows that cyber-crime has risen to become one of the top three concerns for Finance Directors (FDs).
The CA Finance Directors' survey not only provides a revealing snapshot of how optimistic (or otherwise) finance chiefs are feeling, but also indicates what issues are rising high up on their agenda.
Around 120 ICAS members in FD/CFO roles completed the survey, between 19 June and 19 July 2017.
The Economy
Collectively, FDs are significantly more upbeat about prospects for the economy than they were last year, just after the surprise result of the referendum on the UK's membership of the European Union.
In 2016, 45% expected the UK economy to go into recession in the next 12 months; only 16% believe that in 2017. And 27% expect to see "moderate growth" (GDP 1%-2.5%) compared with last year's 13%.
| | | |
| --- | --- | --- |
| | 2017 (%) | 2016 (%) |
| The economy is set to decline | 16 | 45 |
| Flat/negligible growth (0%-0.9%) | 52 | 41 |
| Modest growth (1%-2.5%) | 27 | 13 |
| Strong growth (2.5% plus) | 3 | 1 |
| Don't know/no opinion | 2 | 0 |
The numbers anticipating redundancies in their organisation are also significantly down on last year (17% compared with 33% in 2016).
What are the key barriers to growth?
The top ten barriers to growth are listed below with last year's rankings shown in brackets:
Political factors - domestic (2)

Brexit-related issues (1)

Skills shortages (7)

Red tape and regulation (9)

Weak consumer confidence (3)

Political factors – overseas (8)

Weak confidence in the business sector (4)

Depressed oil price (5)

Fears interest rates will rise (11)

Measures to reduce the state's deficit go too far, too fast (13)
Cyber fears
One significant trend is that cyber-security continues to rise up the FDs' agenda. A few years ago it was hardly on the radar; last it was the fifth rated issue and now it is rated third most important, even above staff recruitment and retention.
On the FDs' agenda: the top 10 issues
The top ten issues for FDs are shown below with last year's rankings in brackets:
Growing revenues (2)
Controlling costs (1)
Cyber-security (5)
Recruitment and retention (3)
Fraud prevention (8)
Other IT issues (7)
Bringing new products and services to the market (4)
Corporate governance (9)
Expanding into new markets (10)
E-commerce and the Internet (11)
On balance, respondents report increases this year in hiring and capital expenditure, and also in opportunities to grow, organically and through acquisition; however, the perception is that bad or doubtful debts are also rising.
As well as "political factors", Brexit and skills shortages are seen as the main obstacles to growth.
Perceptions
We also asked how FDs and CFOs feel about the image of business in the wider world. The consensus seems to be that national politicians are more sympathetic to business interests than are those in local government. The media is seen as the sector most out of touch with business.
Two-thirds of those in our survey also agree with the statement: "Businesspeople need to be seen to act more ethically if they are to regain trust."
| | | |
| --- | --- | --- |
| | Strongly agree | Somewhat agree |
| Businesspeople need to be seen to act more ethically if they are to regain trust | 22 | 45 |
| Business leaders are able to get their message across | 2 | 25 |
| Politicians at national level understand the needs of business | 3 | 26 |
| The public understands the needs of business | 2 | 25 |
| Politicians at local level understand the needs of business | 2 | 27 |
| The media understands the needs of business | - | 22 |
While events can be hard to predict and prevent, what's important is how we respond. In this period of disruption and heightened political influence, there is a growing challenge for businesses to stay relevant and to remain trusted by those who invest in their products and services
Sandy Manson
Chief Executive, Johnston Carmichael
Stay in the know
We run a series of updates aimed at finance directors and financial controllers. At these seminars our experts advise on recent developments across a variety of topics including personal and corporate tax, accounting, company law, pensions and personal finance.
Register your free place at our upcoming FD Seminars in Edinburgh on EventBrite now.