Employee financial wellbeing under the spotlight at new event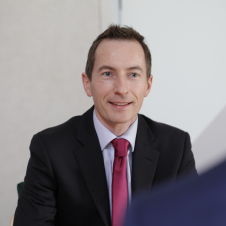 Donald McNaught
Restructuring Partner
Employee financial wellbeing will take centre stage at a high-profile conference being hosted by leading independent accountancy and business advisory firm Johnston Carmichael.
Personal debt problems have a significant impact on employee wellbeing. According to research, 25% of employees have said that money worries have affected their abilities to do their jobs[1], with that figure rising to 45% for those under the age of 34[2]. Almost nine in 10 employers agree that financial concerns have an impact on employees' work performance[3].
The conference, which is to be held in Glasgow on Thursday November 15, aims to explore the issue and uncover possible solutions that will help businesses to support the financial wellbeing of their staff.
The event will feature an address by Jamie Hepburn MSP, Minister for Business, Fair Work and Skills. Other key speakers include Charles Cotton, from the Chartered Institute of Personnel and Development. There will also be contributions from organisations including government organisation Money Advice Service, Clydesdale Bank, employee benefits specialists Salary Finance, financial advisers Foster Denovo and Navigator Law.
Donald McNaught, Head of Restructuring at Johnston Carmichael, said: "Employees are the lifeblood of businesses. As a resource they help companies stand out from their competitors but there is increasing evidence that employees suffering from financial problems struggle in the workplace. We want to help employers to provide their staff with the support they need to create a happier and more productive workforce. Businesses that invest in their employees' financial wellbeing are also investing in their future success."
Allison Barnes, Scotland Manager at the Money Advice Service said: "Day in and day out financial worries can take their toll on employees. When one in four workers have lost sleep over money worries, more can be done to help not just employees but organisations reduce stress and increase productivity. That's why it is so vital to continue developing a bank of best practice for employers and employees, putting this work into action for the benefit of all."
For further information or to register for the conference, please visit: https://johnstoncarmichael.com/about-us/events/emp-fin-wellbeing.
[1] CIPD, 2017
[2] Neyber, 2018
[3] FCA, 2017