The recruitment fair needs YOU: How to make the most of your university career fair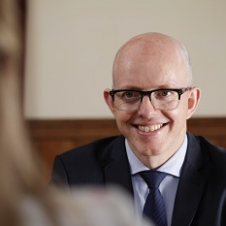 Paul Cameron
Learning and Development Executive
University recruitment fairs are an excellent opportunity for students to find out more about the job market. Johnston Carmichael's Learning and Development Executive, Paul Cameron, tells us why he would advise students in every university year group to attend.
I have manned the desk at many student career fairs and I understand that walking into a busy room where you might just meet your future employer can be intimidating. But whether you're exploring summer internship opportunities or looking for your first graduate job, career fairs offer something for everyone.
If you're in your first year, go along and get used to the format. Make sure you ask a few questions about what career opportunities are available so that you have more information when you need it – the free stationery is purely a bonus!
Attending job fairs every year should mean that by the time you get to your third year when companies will consider you more seriously for internship opportunities, you will be much more comfortable talking to recruiters and delivering your elevator pitch.
My top five tips for getting the most out of career fairs are:
First impressions count: Research shows that first impressions can be established in anywhere between half a second and a minute - so make sure you have a smile on your face, practice your handshakes and have your questions pre-prepared. A few nerves are always okay – but they will hopefully disappear after the first few handshakes!
Prepare, prepare, prepare: Spend some time researching potential employers before you go. Find out what they do and think about which companies you'd most like to work for. Make sure you visit these companies but also keep an open mind – you may stumble across an opportunity you hadn't considered before. It's also a good time to think about what you are looking for in a potential employer – it's not just about what you can offer them, but also about what a company has to offer you.
Practice your elevator pitch: You only have a few minutes to make an impression. I generally talk to hundreds of students on the day of a career fair and only remember a few. Practice your elevator pitch – write it down and say it aloud. What do you want a potential employer to know about you and what makes you stand out?
Treat it as a warm-up for the real thing: Job interviews can be challenging. The recruitment fair is a great opportunity to gain confidence talking to potential employers in an environment that should (hopefully!) be much less stressful than your first formal job interview. Think about what you might want to ask an employer in an interview situation and take the opportunity to practice.
Something to remind you: At the end of the day you may feel like you've experienced information overload. Take ten minutes to reflect and make as many notes as you can about what you've learnt to help you in any future job applications. Think about whether there are any companies you'd like to follow up with.
Graduate vacancies at Johnston Carmichael - apply now
We have a number of graduate vacancies across our offices starting in 2019. Be quick the deadline for applications is Monday 29 October 2018. Full details of how to apply are on our Student Recruitment page.