Looking for a challenge in 2022? Why not sign up for the Kiltwalk!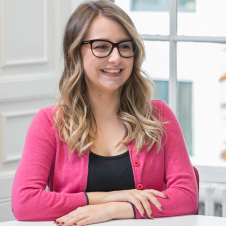 Kirsty McVey
Marketing Executive
2022 marks the sixth year that Johnston Carmichael have been proud sponsors of the Kiltwalk, and this year - we're back in person!
The last two years have been hard for many of us, not least those charities who rely on donations and sponsored events to continue offering their help and support to those who need it most.
With over 850 staff and partners in our business, we know that our people really can make a difference. That's why, this year, we're encouraging all of our Chartered Akiltants to get back on their feet and stride, stroll or wander their way across Scotland to help raise money for charities close to their hearts.
We've asked some of our hardy walkers to share what the Kiltwalk means to them and give us their top tips for happy feet!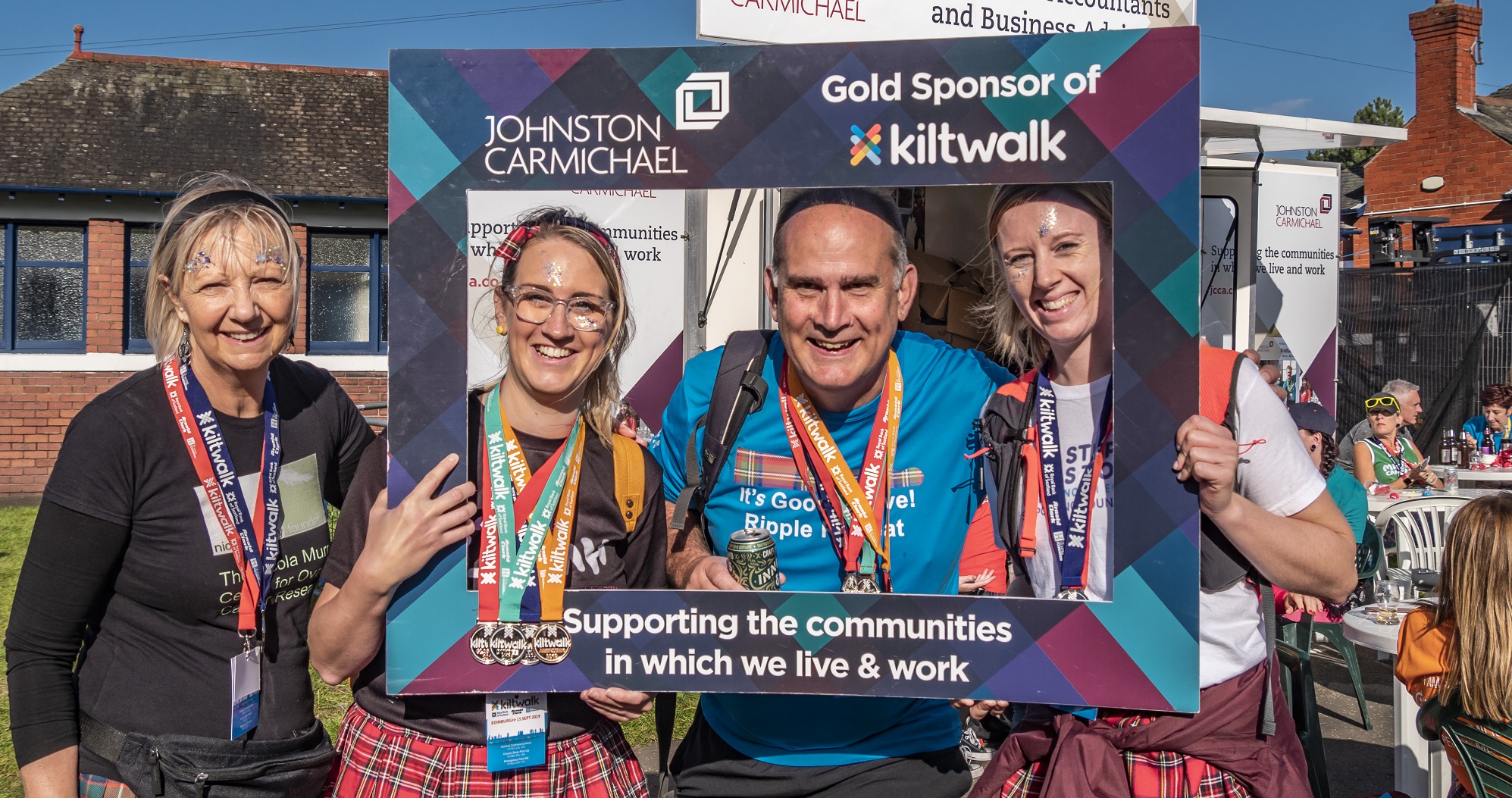 John (pictured second from the right) after he crossed the finishing line in Edinburgh, completing all four Mighty Strides in 2019 with his daughter Kirsty (pictured second from the left).
"In 2019 I was set a challenge by my daughter Kirsty on the landmark of her 30th birthday, to complete all four Kiltwalks in the year. We started with Glasgow, a stroll in the park, compared to the others! Aberdeen was the toughest one, but the views, to die for. I needed help getting out of the car when we got back to Edinburgh, 7 hours walking and two hours of driving. The Dundee walk was a different experience, starting off in St Andrews in fine weather and walking round the Fife coast before getting absolutely soaked going over the Tay Bridge! Finally Edinburgh, a good challenge, the thought of achieving our goal at the end spurred us on. The Team at JC were amazing. Kirsty and I, and the friends that joined us on the walks, would like to thank everyone for making it such a wonderful experience. The bubbly at the end was a great touch!"
John's top tip: "Do some training prior to the Kiltwalks. I tried to do 15,000 steps a day in different tranches and on a Sunday I did 25,000 steps, mostly in one go. Keep hydrated, there are plenty of water and food stations on the walk so no need to stock up on your own supplies."

Eileidh (pictured second from the left) walked the Big Stroll at the Dundee Kiltwalk 2018.
Eileidh Halder, Audit Senior, Perth
"2018 was my second time taking part in the Kiltwalk and although the Dundee walk was challenging - with the wind and rain – I thoroughly enjoyed it! It was a great team day out and a fantastic personal achievement. It's a really inspiring and humbling experience, meeting the other walkers taking part and hearing their stories about the charities they're raising money for. It keeps you motivated along the way."
Eileidh's top tip: "If you can, get a few practice walks in if you're not used to walking long distances. It definitely helped me."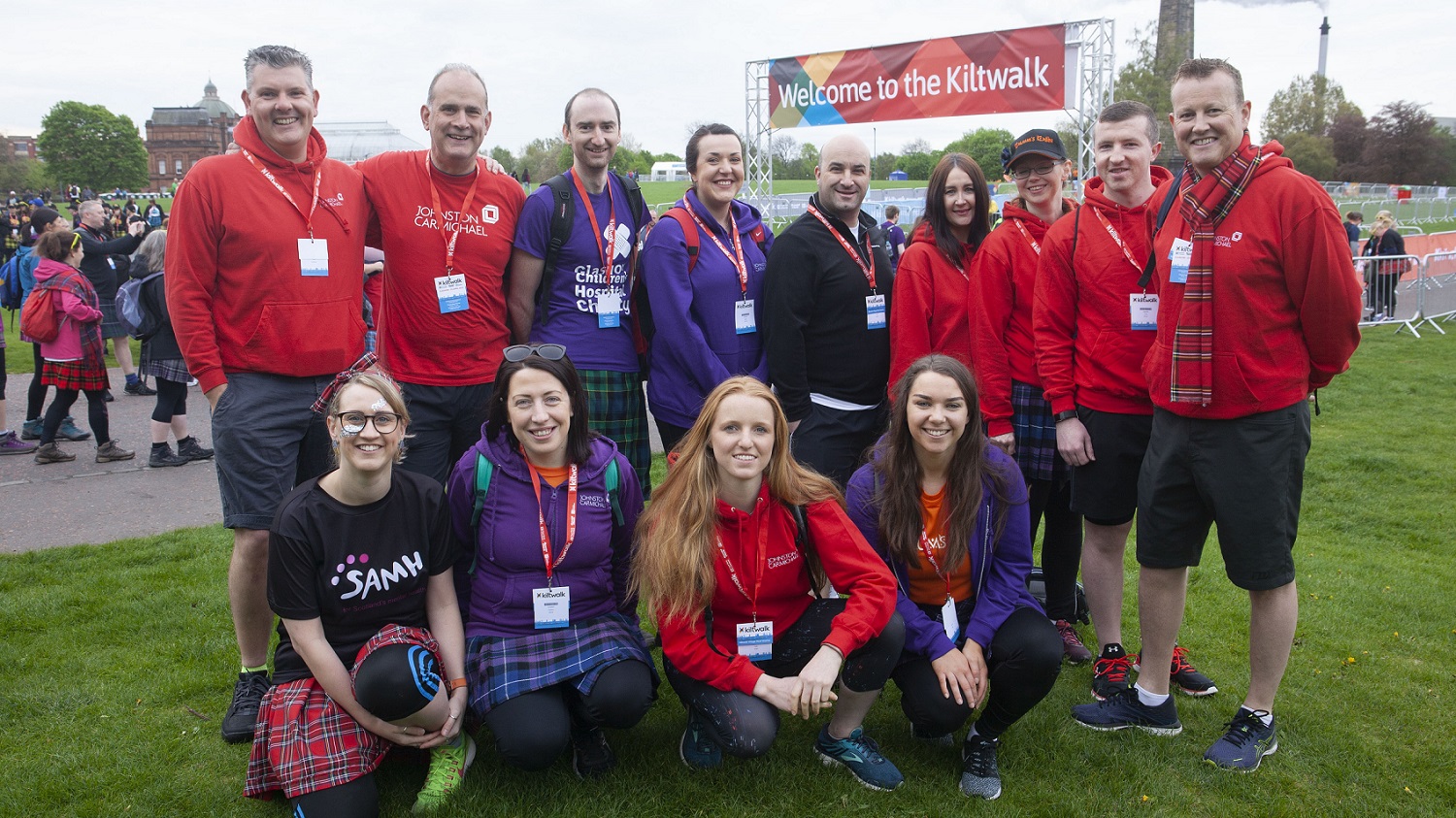 Mark (pictured back row, far right) at the 2019 Glasgow Kiltwalk.
Mark Houston, Tax Partner and Head of our Glasgow office
"I really am immensely proud to support Kiltwalk. We've been sponsors since 2016, when Sir Tom came on board, and we've never looked back as a firm. For me, it's just fantastic to be able to give back to the people who need it most – those who benefit from the charities Kiltwalkers choose to fundraise for. And on top of that, the Kiltwalk is always a brilliant day out. While I'm not walking all four Mighty Strides this year (that was challenging!), I've signed up for the Mighty Stride in Glasgow, along with a team of 18 from our Glasgow office and I'm really looking forward to it."
Mark's top tip: "Try and fit in a few long practice walks a week before the Kiltwalk. I walked from the office to home to build up my stamina, it's an 8 mile walk! And make sure you walk in the the trainers you are planning to use on the day. I'd also recommend you eat plenty of carbs the day before - carb up! There's no need to bring food and drinks on the day though, as there are plenty of goodies and water at the pit stops – keeping our energy levels up."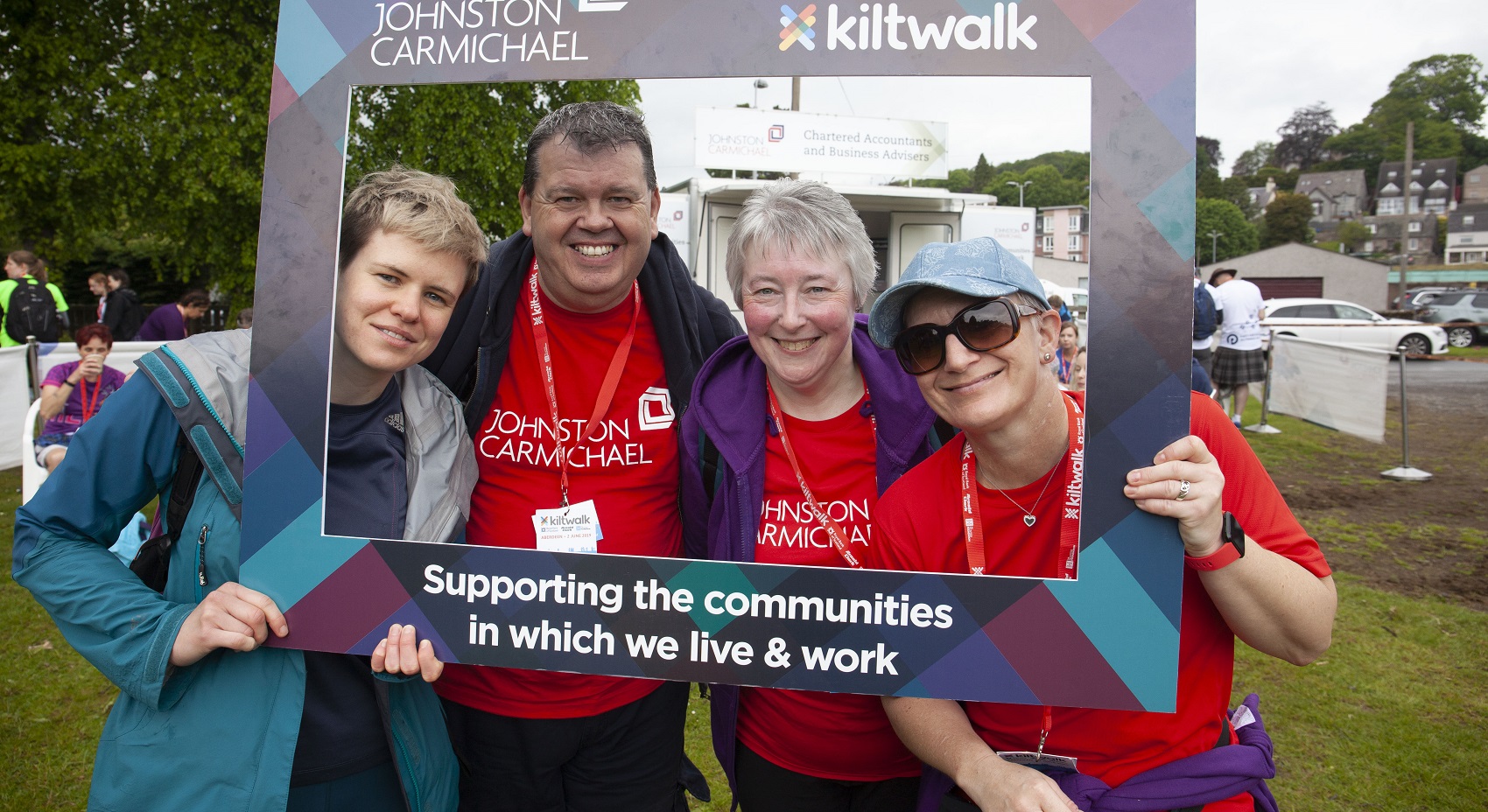 Emma pictured here in 2019 (far right) completing the Aberdeen Kiltwalk for a third time.
Emma Waterman, Business Advisory Partner, Inverurie
"In 2019 a few of us from the Inverurie office took part in the Aberdeen Kiltwalk for the 3rd year. Having broken ourselves in gently with shorter routes in the earlier years, we decided we were up to the feat of the full 26 miles. The Deeside scenery is second to none and there was a real buzz among the walkers, with everyone encouraging each other along the way. Living in Scotland, there is no guarantee with the weather but that just adds another dimension to the challenge. A warm reception at the Duthie Park awaited us and the friendly faces of the JC team were a welcome sight. It was a great experience and the sense of achievement at the end made it all worthwhile."
Emma's top tip: "Try out different footwear before the big day and make sure you're used to walking longer distances in whatever you choose. I'd also recommend investing in a decent pair of socks - it's amazing the difference that makes!"
Sign up for 2022
So, if you're looking to set yourself a challenge in 2022, it's not to late to get involved! There are three distances to choose from, the Wee Wander, the Big Stroll and the Mighty Stride, full details can be found on the Kiltwalk website.
Put your best foot forward in 2022 and walk with us! We look forward to seeing you there!