From law to accountancy: transferrable skills?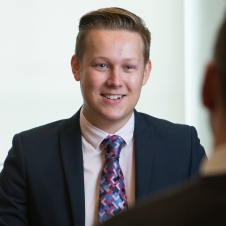 Ross Cargill
Vat Assistant
Ross Cargill recently joined the firm after having a change of heart over the direction his career would take. After graduating with a law degree, he decided to make the bold move from law into tax, joining the Edinburgh tax team as a VAT assistant. Below Ross tells us how he hopes the skills he acquired from his time studying law will help him as he embarks on his career in tax.
What attracted you to Law?
What initially attracted me to law was being able to fix a client problem. Having enjoyed being able to develop relationships with people through my part time job, I knew that I wanted a career where i could interact with clients. Once I had completed several legal work placements prior to applying for university I knew that style of work and the busy working environment was for me. Law is all about applying a set of rules and precedents to a client's problem and being able to provide them with a solution. The variety of problems and clients alike that you can encounter, even on a weekly basis confirmed for me that that this was a career path worth pursuing.
What attracted you to accountancy instead of pursuing the traditional diploma route?
Accountancy, like law is about providing excellent client service to aid or fix an issue a client is having. The traditional diploma path is talked about from the moment you start university. It is by no means an easy route and a lack of traineeships makes it a risky one. With the diploma having only a 2-year life span I decided to look for alternative routes to progress and gain experience in the corporate world, something that is invaluable in both the accountancy and legal professions.
What skills do you use from your law degree that are transferrable to life in an accountancy firm?
I've found many of the skills that I developed through modules such as Law in Practice to be vital for working at Johnston Carmichael. Interacting with clients is a major part of any professional business and striking the right tone with a client is key to success. Time management is another skill that I've been able to use from my legal background. When it comes to Tax, many clients share the same deadline and it is paramount that you use your time accordingly so that you can manage your client's expectations to produce a successful outcome. I would also say that developing relationships with my class mates and building on my people skills has been invaluable as it's helped me to build relationships with colleagues, which is just as important to me as building relationships with clients.
What projects are you working on at the moment?
I have been fortunate to work on a variety of projects within the VAT department so far. From enrolling clients for VAT, to doing their returns and answering any queries that come in from clients and others in the firm, the work has been varied. Working with a wider team means you have to be able to support the team where you can. I have done this so far by preparing reports and carrying out research for clients. Currently I am helping to prepare a report on International Tax implications for UK based clients and a transfer pricing guide.
What are you enjoying about your role?
I'm enjoying the variety of work and the level of responsibility that I've been given so far. JC have been very supportive and they've also given me a good level of responsibility, which has allowed my confidence to grow immensely. The level of training I have received has also been great and really allowed me to progress in my role in a short space of time.
What attracted you to Johnston Carmichael?
What stood out about JC to me was the welcoming and supportive nature of the firm. Having talked to people I knew who had worked for the accoutancy and business advisory firm they all said how much they enjoyed working for JC and after doing some research of my own, I knew it would be a good fit for me. The support offered so far has been outstanding and where there is a particular area of the business you want to explore, they will do everything they can to provide training so that you can understand that area of the business and in turn, advise clients more effectively.
Interested in a career at Johnston Carmichael? Vacancies for our internship and graduate training programmes are now live, so visit us at jcca.co.uk/bestofboth to find out more.